Vista Bodega Pinot Noir 2018
$19.99
-50%
Sale!
Vista Bodega Pinot Noir 2018
$19.99
-50%
Pinot from Chile, have you tried it yet?
Pinot Noir is a tough grape to grow, its fickle and even in the best conditions can challenge the most experienced of growers. The Central Valley in Chile is well known for its long sunny days and cool nights which allows Pinot grapes to ripen and to retain their natural acidity. Vista Bodega produces a lighter style of Pinot, filled with ripe berries, cherry and a hint of spice. It's best served with roast chicken, or anything tomato based – pasta, pizza, the list really is endless!
Ridiculous value at this price.
Pinot Noir is a relatively new discovery in Chilean wine production. A growing number of cool climate Chilean vineyards offer the precise conditions for this loved and delicate variety. Cool climate regions like Casablanca, San Antonio and Bio Bio offer the precise conditions for this loved and delicate variety and offer wines varying from simply charming to rousingly seductive. 
Central Valley (Valle Central) is Chile's most internationally known wine region. It is best known for it's well-balanced reds as the climate is dry and with its close proximity to the Andes creates a wide diurnal temperature variation. Long Days in the sun increases the ripening qualities of the grapes and with the sudden drop at night leaves a balance of natural acidity. .
Additional information
| | |
| --- | --- |
| ABV | 13.5% |
| Grapes | |
| Seal | |
| Varietal | |
| Style | |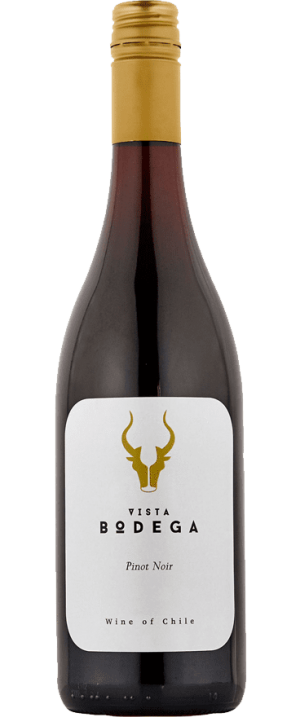 Vista Bodega Pinot Noir 2018