The Entertainers 6 Bottle Case
$169.94
-41%
Sale!
The Entertainers 6 Bottle Case
$169.94
-41%
We've got you covered with The Entertainers Case! This carefully curated selection of premium wines from across the world will no doubt impress your guests – your next dinner party will be a breeze!
The Marquis de la Tour NV is made like Champagne just not from the area so pop a bottle and pour on entry.
The Duck Point Sauvignon Blanc 2019 is a classic Marlborough Sav and a versatile aperitif that'll match with lemony hummus and chips.
The Tout Nu Tout Rosé with its fresh flavours is great with most cuisines so will accompany a platter of starters perfectly.
The Tourelle de Tholomies Chardonnay is a smooth, lightly oaky Chard that'll pair well with creamy dishes whether this is creamy pasta or white meats with creamy mushroom sauces.
If however your guests want a red with dinner pour them a glass of the Fancrest Estate Pinot Noir. This savoury, sophisticated red will stand up to rich meat and cheese flavours, and being 100% organic it'll no doubt raise a few eyebrows!
An alternative to the Pinot is the Signore Guiseppe Montepulciano d'Abruzzo. It'll add some Italian flair to the party and matches excellently with tomato based dishes.
Pack subject to change due to availability.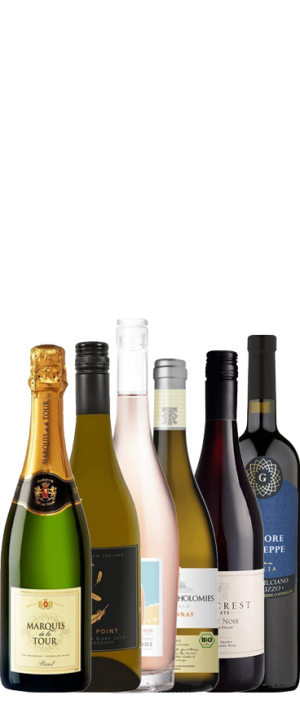 The Entertainers 6 Bottle Case