Italian Vino Lovers 6 Bottle Case
$135.94
-41%
Sale!
Italian Vino Lovers 6 Bottle Case
$135.94
-41%
Explore the beautiful wines of the boot with our Discover Italy 6 Bottle Case! From a lively, refreshing Prosecco to a hearty Primitivo, this case will take your taste buds to the far stretches of what's on offer from Italy!
Each pack contains one of each of –
Cestino Pecorino IGT Terre di Chieti 2018 Its dry has flinty notes of limestone, citrus and peach and some floral notes like summery jasmine as well. Grab a few bottles and take to your next dinner party.
Il Mandorlo Negroamaro IGP 2015 "Dark spicy style and rounded softness from its four years of age. It's tasty, long on flavour and over delivers for the price. Very good quality." – 4 Stars, Joelle Thomson, Wine Writer
Saluti Puglia Rosso Negroamaro Merlot 2017 "A medium bodied style which is still rich in fruit flavour – blueberries and wild berries give this stunning red its southern Italianesque style. Despite its fruity flavours, it's dry in style and incredibly flavoursome. Great value for money." – 4 Stars, Joelle Thomson, Wine Writer
Signore Guieseppe Montepulciano d'Abruzzo 2017 A dark, ruby-red coloured Montepulciano with slight violet shades. A pleasant, fruity nose. Round on the palate with silky smooth tannins. Well-balanced finish with good acidity. Goes great with pasta dishes or red meats. Grapes originated from Botter Spa, in the Veneto region 30 km north-east of Venice.
Signore Guiseppe Asti Spumante NV A brilliant Asti with a fresh nose that is perfumed, delicate, persistent, with notes of candies, and a touch of exotic fruits and honey. Clear straw yellow colour with slight green and gold reflections with the yellow colour becoming stronger with age. Strong flavours of fresh fruits and geranium, which come slowly. The richness and the sweet finesse of melon are typical of the Muscat vines.
Villa Cardini Sangiovese 2017 
Cerise in colour and a nose of aromatic berry fruits and refined plum notes.  This is a beautifully balanced wine with great harmony between the tannin, fruit and acid.  Perfect with pasta and lighter meats.
Pack subject to change due to availability.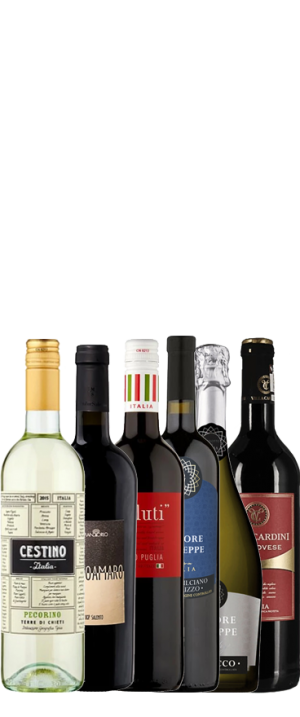 Italian Vino Lovers 6 Bottle Case